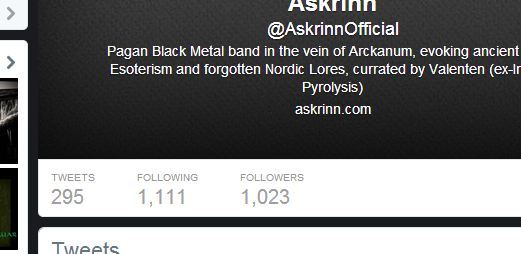 Thank You !
To each one of you I say thank you.
We passed a few days ago the 1000 followers limit on the official Askrinn twitter page, and this is definitely a great step.
Thus, by this quick message, I wanted to thank you for your awesome support and all your encouraging tweets - it means more than you might think at first !
Keep on rocking,
V.
@AskrinnOfficial Just heard Fé Vældr Frænda Róge pretty cool! Looking forward to hearing more of your music, I Facebook liked & subscribed.— George El-Khoury (@MortaniusTaijou) January 26, 2014
The time will pass and you will be a great band. Believe! @AskrinnOfficial— (@eagleacc) January 26, 2014