In the first few months of 2015, I was a little bit worried. I had been buying quite a lot of nice albums at the end of the previous year, from awesome bands such as Winterfylleth or 1349, but suddenly the underground scene was slowing down and I almost stopped adding CDs to my collection.
Then, gradually, new killer Black Metal albums were released and I quickly changed my mind about how good the year 2015 would be.
Today, as we are now almost halfway through the month of December, it is time to relax and look back a little bit. So, I decided to make, once again, a "best-of" list. True, it is always a difficult and subjective task. However, I really wanted to share with you these quality releases, in case you had missed or forgotten about some of them.
Such lists are never complete though, so it would be great if you could tell me in a comment at the end of the article which of the bands you preferred, and which albums you think are missing.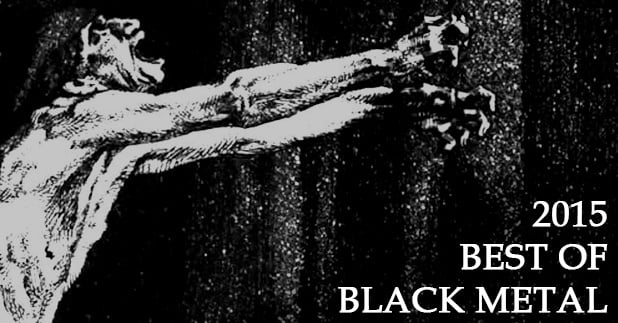 Skialykon - Vestigio
Genre: Atmospheric/Pagan Black Metal
Label: Naturmacht Productions
Website: www.facebook.com/skialykon
As usual, Naturmacht released some very nice albums this year. I hesitated for a long time: should I talk about Skialykon or about Havukruunu? Or both? …but I like keeping my end-of-year lists rather short. I ended up opting for the former, as I had already mentioned the other one in an article about my recent discoveries on SupportBlackMetal.com.
Skialykon hails from Reggio Calabria, Southern Italy. A region I happen to know a little bit, as I once spent around one month in a small village nearby. If the weather is good, you can spot Mount Etna on the other side of the sea, the famous volcano currently in eruption. A pretty picturesque area. It's easy to see that it has been influencing the lyrics of Vulr, who built this album like a praise to the Ancient Past, filled with references to Roman and Greek mythologies (he also has got some Greek origins, from what I understood).
It's not some random pagan stuff though: he seems to be really interested in this part of the world history, sometimes even quoting authors from the ancient Rome or Greece (Pliny the Elder and Hesiod). And when you put the booklet aside and start listening to the CD, you can only but acknowledge how authentic and personal this album feels. It is epic atmospheric Black Metal, filled with moving melodies, archaic chantings and raspy screams. Plus some well-crafted ambient parts. Within a few minutes, you're delving in a mysterious universe, and Vulr is only giving you a few clues to understand it. But you feel captivated.
An upper-quality and evocative release, which you should get right now if you like atmospheric music.
Downfall of Nur - Umbras de Barbagia
Genre: Intense Atmospheric/Pagan Black Metal
Label: Avantgarde Music
Website: www.facebook.com/JhanasNur
Another atmospheric opus, probably a bit more intense than Vestigio, which I mentioned just above. It's also a one-man band, created by Antonio Sanna, coming from Argentina although he lived a few years in Sardinia (Italy) in the past. And that's where he is drawing his album's concept from: Umbras de Barbagia is focusing on the Nuragic civilization, a rather mysterious Bronze Age civilization, of which remain 7000 nuraghi (megalithic edifices), scattered around Sardinia.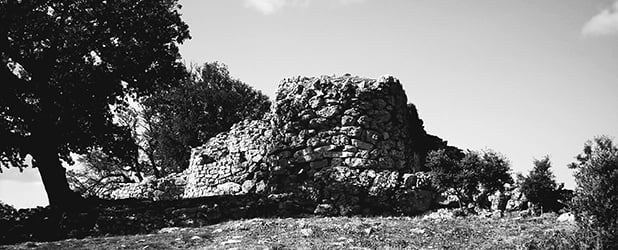 Although I knew absolutely nothing about this part of European history before hearing about this band, it is needless to say I felt immediately interested (as you may be too, after reading the previous paragraph).
Introduced by a short but enjoyable ambient track, the album is giving us some top-notch atmospheric music with an ancient vibe, alternating between pretty aggressive Black Metal parts and folk instruments-based ambient sections which should thrill any Wardruna fan. I say aggressive, because the raw-sounding guitar walls are supported by soul-tearing shrieks which are not for the faint-hearted. It is a powerful and solid release, full of an organic energy which successfully evokes an antique world of which we know so little.
When listening to Dowfall of Nur, you both listen to some inspired and creative music and discover a long-lost civilization. Who dares to ask for more?
Macabre Omen - Gods of War - At War
Genre: Pagan Black Metal
Label: Ván Records
Website: www.facebook.com/macabreomen.rhodes
Let's stay in the Antiquity theme with my absolute favorite album of the year: Gods of War - At War by the Greek band Macabre Omen. The band has been around for a while as they released some demos in the 90s, but I didn't know about them until Ván Records released their new album this year.
First, a mandatory word about the artwork. When you hold the matte digipack in your hands, with the golden hot-foiled logo, you immediately feel you're looking at a serious and solid release. It's truly magnificent… just like the music. The composition is really electrifying and well-thought, and never repetitive. It's a personal interpretation of Black Metal, sometimes reminding me of Ancient Rites but with a more extreme approach. The songs all have a truly epic feel, successfully evoking the Ancient Greece universe with a clear focus on war themes, such as the famous Battle of Thermopylae (480 BC).
Moreover, the vocals are quite varied, which is something I sincerely appreciate. There are both clean war chants, deep growls and high-pitched DSBM-style shrieks. And even spoken words. This results in a strong and coherent album, supported by a very dynamic production in which you clearly hear all the instruments while retaining an old-school feel.
An exquisite masterpiece of Black Metal.
Misþyrming - Söngvar elds og óreiðu
Genre: Icelandic Black Metal
Label: Terratur Possessions
Website: www.facebook.com/Misthyrming
I think I have never regretted being late for buying an album more than for Misþyrming's Söngvar elds og óreiðu. I have an excuse though, as I only heard about it a bunch of weeks ago. So for now (as the CD is sold out), I am contenting myself with their free download.
Iceland is (almost surprisingly) a country from which few Black Metal bands arise. I assume it must be somewhat connected to the smaller size of the population in comparison with the other European countries. However, I have noticed that these few bands often have an interesting and almost characteristic sound. Well-produced but delivering a raw, old-school energy.
Misþyrming is not an exception to this. They are offering us an intense album, cadenced by brutal pounding drums. The guitar work is very interesting and diverse: although the most-extreme parts are emerging from tremolo-picked guitar walls, there are a lot of skillfully-composed transitions and lead guitar lines which are truly enjoyable. Special mention for the dark ambient interlude, Frostauðn (= "frozen wasteland", correct me if I am wrong), which acts as an appreciated break in the middle of the album.
Obviously, this release is reminding me of Árstíðir lífsins and Svartidauði, but also of some French bands like Aosoth, who take care of choosing an organic guitar sound using quality amps. A must-have album which seems to come from the depth of subterranean Iceland.
Kjeld - Skym
Genre: Black Metal
Label: Hammerheart Records
Website: www.facebook.com/Kjeldblackmetal
In comparison with the bands presented before, Kjeld is a much more extreme and much darker act. They're coming from the Netherlands and are singing in Frisian language, which is a very local Germanic language spoken by an ethnic group living mostly on the southern border of the North Sea. Unfortunately, there are no explanations in the CD booklet, so I will not comment on the topics their lyrics deal with, also it seems obvious that they refer to ancient Frisian traditions and culture.
The production is quite modern but it remains dynamic. However, the composition will probably appeal to the fans of the fans of the 90s Norwegian Black Metal scene, from which the band obviously draws inspiration. Yet, their approach is very sincere, and succeeds in building an album that sounds new and fresh. And the bassists will be delighted, as they will hear meaty bass lines sitting well in the mix.
The music is brutal and intense: the tracks are quite short, effective, and there is almost no time to rest between the songs. So, get ready for a lot of blast beats: Kjeld is a huge machine fueled by pounding drums that you won't be able to stop before the CD ends. Yet, their album is not extreme for the sake of being extreme: it does contain quite a lot of enjoyable melody lines (like the track Brek En Brân at 1'55") as well as some epic synths pads (Tûzen Sinne…).
A fast-paced first full-length album, which delivers upper-quality Black Metal.
Manii - Skuggeheimen (EP)
Genre: Old-School Black Metal
Label: Debemur Morti Productions
Website: www.facebook.com/ManiiOfficial
This short EP released by Manii in September, only in 7" vinyl format, is probably to be seen as an introduction to their upcoming full-length album. Manii is in fact the Black Metal facet of the more famous Norwegian band Manes, and the two songs of Skuggeheimen are actually derived from old Manes demos.
The result is some high-quality Black Metal, which definitely sounds old-school, with a rather atmospheric aspect (especially in the second track). Indeed, the use of synths is omnipresent and the tempo is sometimes quite slow, which successfully evokes the icy landscapes of Norway.
I won't go into details regarding this EP as it is quite short, and even if it is very good it is a bit difficult to judge the band on it. However it is a highly-immersive musical experience, and I think you should check it out as soon as possible.
Mgła - Exercises in Futility
Genre: Black Metal
Label: Northern Heritage Records
Website: www.no-solace.com/mgla.html
The Polish band Mgła is not exactly an old band, but it has already proven several times its value in terms of killer Black Metal compositions. It is probably not needed for me to tell much about them, as I believe most of you remember their 2012 album With Hearts Toward None, a magnificent piece of work.
Almost unsurprisingly, their latest offering Exercises in Futility is also an upper-quality release, for which you should probably find a place in your CD/LP/Digital collection. The music is not particularly fast, so if you're only here for the blast beats you may be disappointed; however it does succeed to build up an awesome ambiance. It is one of the reasons why I got into Black Metal in the first place: it is a genre where the atmosphere conjured is at least as important as the technical level of the music.
What strikes me the most is how efficient the composition is, and how coherent this whole album sounds. The verses riffs, the transitions, the melodies, the raspy vocals: everything seems to fit and the songs flow without a moment of hesitation. However, you can't just take out an element and say "this is a great guitar riff" or "this is a great vocal line": you would destroy the sound magic that Mgła is offering us.
Top-notch Black Metal.
Akhlys - The Dreaming I
Genre: Black Metal / Dark Ambient
Label: Debemur Morti Productions
Website: www.facebook.com/Akhlys-1512419082356682
Let's come back to Debemur Morti Productions and have a look at their Akhlys release, which is really one of my favorites this year. The band, hailing from the USA, is playing a kind of Ambient Black Metal. But not in the usual down-tempo atmospheric interpretation of this word: instead, they are combining reverb-drenched guitar layers in a drone-like manner, building up a nightmarish universe.
As the title suggests, it is a concept album inspired by some of the darkest dreams of its mastermind, Naas Alcameth (Nightbringer, Bestia Arcana…). Clearly, the band succeeded in bringing to life this oneiric universe through a pitch-black musical expression. Although the mix is pretty well done, I would dare to say the songs sound blurry. But not in a negative way! Instead, it completely matches the ever-changing world of dreams, with its terrors and the occasional sleep paralysis experiences. In some parts, the lyrics are even somehow referring to Out of Body Experiences / astral projection (The Dreaming Eye).
Akhlys is playing a twisted and oppressive music. For sure you will not feel light-hearted once the CD is finished. On the contrary, it somehow induces introspection. But you will maybe feel awe for this meaningful and otherworldly album that they are offering us. The Dreaming I is simply a masterpiece of modern Black Metal.
Blaze of Perdition - Near Death Revelations
Genre: Black/Death Metal
Label: Agonia Records
Website: www.facebook.com/blazeofperdition
Blaze of Perdition was a very nice discovery for me this year. This album, Near Death Revelations, is obviously a very personal one as it directly refers to their 2013 car accident in Austria while they were on tour, in which their bassist died and two of them were badly hurt.
As usual with many Polish bands, there are some death metal riffs sprinkled onto a Black Metal basis. Indeed, the modern production of the album will for sure appeal to the fans of Behemoth and Hate, but at the same times most Black Metal fans should also be satisfied, as it is a truly dark work.
The harmonies, the devilish and violent blast beats, the ferocious vocals: everything tends to conjure a disturbing atmosphere conceptually-focused on Death. Even the lyrics, written in an introspective and rather poetic way, act as twisted reminders of the fragility of Life.
A very serious and solid release, which may make you feel ill-at-ease, especially when you know the underlying story, but is truly well-composed and powerful.
Leviathan - Scar Sighted
Genre: Weird and Ugly Black Metal (sorry, didn't have any better words)
Label: Profound Lore Records
Website: trvlvthn.bandcamp.com
I guess you saw this one coming. I am quite sure that Leviathan's latest offering is and will be present on many best-of lists of 2015. And, surprisingly, it's not an easy album to listen to.
I bought the CD after a quick listen on Bandcamp but mainly because of the packaging, which is a beautiful white box containing a card for each songs. Each card has on one side a unique magnificent design, and on the other side you have the lyrics of the song. Needless to say, it looks great.
The lyrics themselves are actually quite cryptic, and I would have a lot of trouble explaining them. However, the words and metaphors used are clearly conjuring a pitch-black, depressive and unsettling atmosphere which may remind you of the feeling you have when you're reading a Lovecraft short story.
The music is equally cryptic, in fact. There are a lot of variations: on the CD you will hear traditional Black Metal, DSBM/atmospheric parts, dark ambient, post-black sounds - all of this packed together and forming an often-dissonant sonic entity. Actually, it is quite of an avant-garde album, and I am running out of adjectives to describe the compositions. There are too many variations in the sound, be it in the guitar riffs or in the vocals style, that I would need several pages to help you understand what it's all about if you haven't listened to this opus yet. However, these variations are not making the album sound incoherent: on the contrary Scar Sighted feels consistent and the tracks solidly support each other.
A negativity-fueled album, disturbing at times, but incredibly well-done. A must-have.
IN CAUDA VENENUM - s/t
Genre: Post-Black Metal
Label: Emanations (a division of Les Acteurs de l'Ombre Productions)
Website: www.facebook.com/incdvnnm
If you have read this entire article until here, you may have guessed that artwork and packaging are for me almost as important as the music. Seriously, if you buy a CD, you usually enjoy receiving something that looks great.
IN CAUDA VENENUM's first full-length is one of these albums which look great. The main artwork is a painting by Jeff Grimal, the same artist who did the cover of The Great Old Ones latest CD (Tekeli-li, 2014). And in addition to that, there was a (now sold-out) limited edition with a hand-made gold and black silkscreen on a wood panel. Not the kind of thing you see every day = if it sounds good it will come in my collection.
Well it does sound awesome. I labeled their music as post-Black Metal above, but they're mixing diverse influences in a very interesting way, as several other French bands did previously in the last few years. The composition is cleverly done: there are only two tracks clocking a little bit above 20 minutes each, but they are flowing perfectly in a never boring way.
Production-wise, you can hear a lot of details and the instruments are not swamped in the reverb, even in the most atmospheric parts. As a consequence, and partly because of the tracks length, the album feels like a voyage. You keep moving on from one emotion to another, and it really fits the human passions theme chosen by the band, ending with the Death of Man.
Usually, I am not a big fan of post-Black Metal, but here the band is proposing us a unique music with clear old-school thrash and Black Metal references, eventually coming out as a very dense and emotionally-intense release. If you like quality evocative metal, check IN CAVDA VENEMUM out!
What about you?
Obviously, no list is perfect. Even if I gave the title of "2015 Best Of Black Metal" to this article, I am at the same time aware that it inherently contains some part of subjectivity. In other words, I doubt you will agree with me on the inclusion of each of the releases I mentioned above.
However, I am an avid music listener and I do enjoy discovering new bands, listening to new albums, and learning about new concepts developed through music. In fact, I am sure you do, too.
So, which are your favorite Black Metal releases of 2015 ?
Just leave a comment below this article, and I will make sure to check out and answer to all of you!